Thursday, September 11, 2014 at 9:00AM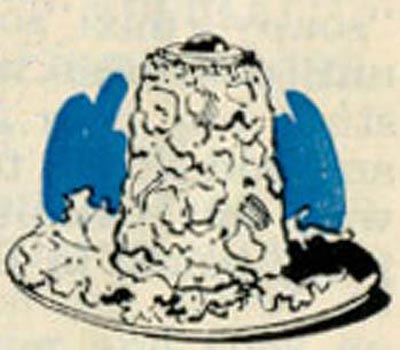 I couldn't find a picture of the offending food, this one is from the Gallery of Regrettable Food website http://www.lileks.com/institute/gallery/Thank goodness it's grape harvest, otherwise the shortening days and the end to tomato season would have me in a funk. As I ponder the end, at least for this year, of those big, fat, multihued heirlooms I am reminded of a particular tomato travesty I witnessed during a recent trip to the Midwest.
It was at Zingerman's, a deli based in Ann Arbor, Michigan that is known for its locally sourced food, benevolent work environment and a management consulting business touted by the likes of the New York Times. Yep, that's right. "Business Visioning" and CEO seminars from a deli.
When I was there, both Zingermans and I were having an off day. They were super busy, service wasn't great and I made myself a little sick because I had to try their artisanal brewed root beer. Delicious, I'm glad I tried it, but hardly a way to start a meal.
I can't remember what I ate but I'll never forget what I saw. Next to me was a couple sharing a beautiful heirloom tomato desecrated with a gloppy mess of cheddar cheese spread and I don't know what all.
Why would anyone do that to a tomato?
It may be (sigh) that Midwesterners demand this kind of food; a delicate leaf of basil and fresh mozzarella would just not taste….tasty enough. Midwestern winemakers must heave a similar sigh when local tastes demand sugary wine, with no chance of the delicate play of acid and sweet that makes wine drinking so glass-swirlingly fun.
I love my midwestern roots and there's is nothing I'd rather eat than a plate of kielbasa and buttered noodles. Sometimes I think, hey maybe we should just stick to that and leave the heirloom tomatoes to the Californians.
Email Article
Print Article
Post a Comment
Tweet
|
2 References
|
tagged
Ann Arbor,
Michigan,
Zingerman's,
harvest,
tomato
in
Food